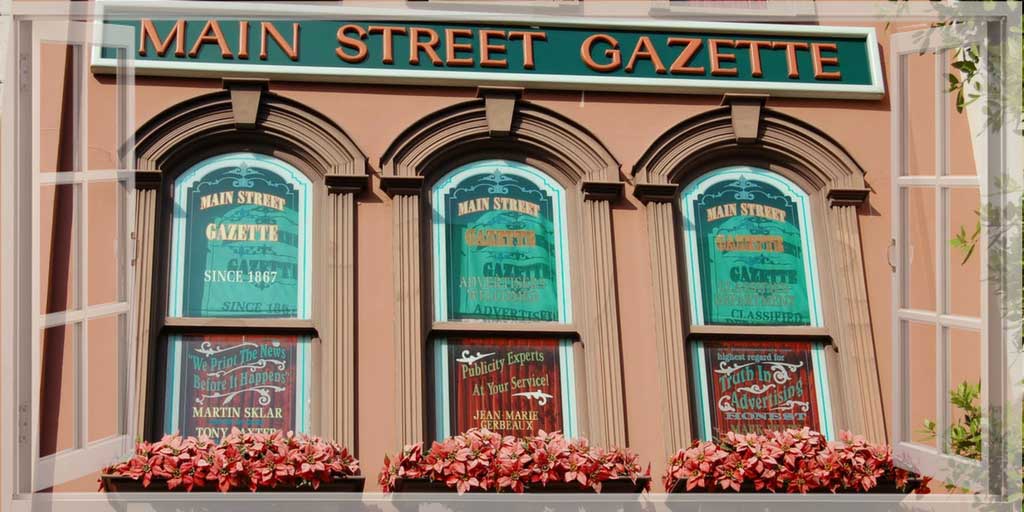 The Story Behind the Windows at Disney Parks
I

f you've been to Disneyland or the Magic Kingdom at Disney World, you may have walked right by the windows on Main Street, U.S.A. without giving them much of a second thought.  But if you had noticed the window pictured above, you may have noticed the last name and wondered what that was all about.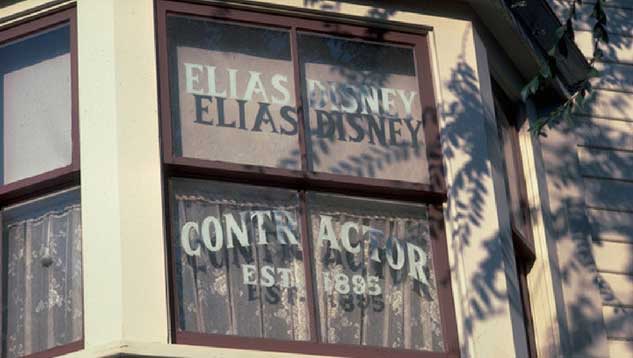 Elias Disney was indeed the father of both Walt and Roy Disney—plus 3 other Disney siblings.  While born in Canada in 1859 to Irish parents, the Disney family moved to the United States and settled in Ellis, Kansas.  What many people don't know is the historical tie to Florida way, way back in the late 1800's:  Ellis, while in his teens, traveled to Florida to look at land.  While in Florida, Elias married Flora Call, the daughter of a neighbor who'd also traveled to Florida.
Their wedding site?  Kismet, Florida, roughly 50 miles north of what would become in slightly under a century the Walt Disney World Resort.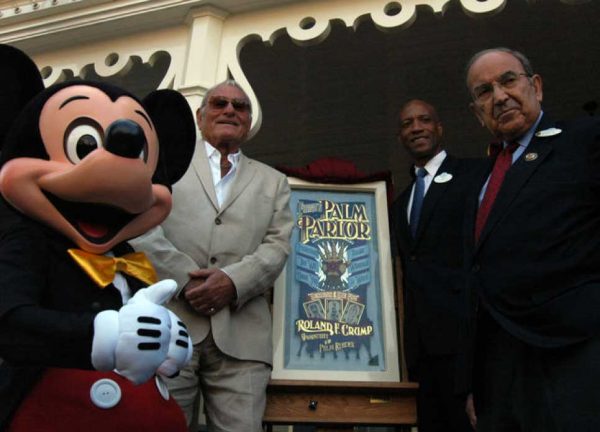 Growing oranges and delivering mail in Florida didn't work out for Elias Disney, so he and his new wife moved to Chicago and began a contracting business.  It was there on December 5th, 1901 that their fourth son–Walt Disney– was born.
Walt honored his father Elias with the window on Main Street on July 17, 1955– the opening day of Disneyland.  It's located just above the Emporium.  The reference to 1895 is believed to represent the year that Elias began work as a contractor in Chicago.
The brief inscription: Elias Disney, Contractor, Est. 1895 is a tribute to the contracting work Elias did in Chicago, with the 1895 date representing the year he began work as a contractor. But the tributes don't end there.  Each window on MainStreet has an inscription with the name of the 'vendor' who owns the business in the building.  Look closely and you'll see careers outlined that include a palm reader, a cyclist shop, a theatrical agency—even Dean of the College of Arts & Sciences.
The names attributed aren't randomly chosen.  According to legendary Imagineer Marty Sklar, the honor of a name on a Main Street Window goes to people who have contributed to the company in a big way.  The honor is bestowed only upon retirement, and only to those with the highest level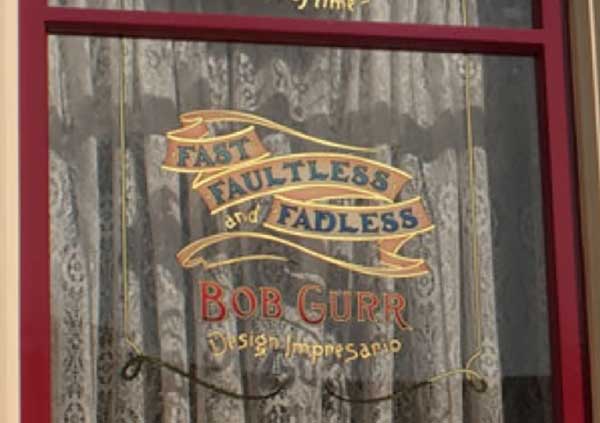 of service and achievement for Disney.  More about Marty in a bit.
But first… about some of those other windows…The Palm Reader window bears the name of Roland Crump.
Crump worked on the Haunted Mansion as well as the Enchanted Tiki Room, so the slightly creepy palm reading theme makes sense.
Bob Gurr received the honor of the Master Cycle window, appropriate for a man responsible for designing many of the ride vehicles themselves—including the Doom Buggies at the Haunted
Mansion and the Monorail itself.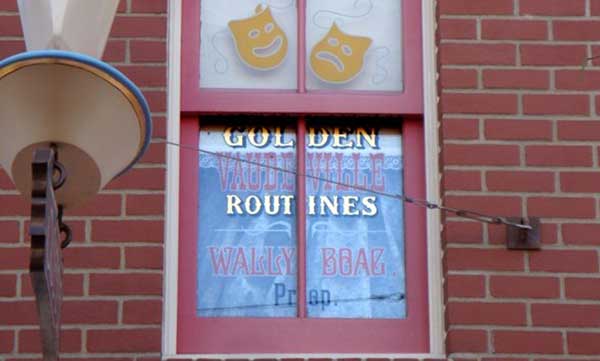 And then there's the window for Wally Boag– he starred in the Golden Horseshoe Revue for over 40,000 performances—and his Theatrical Agency window is above the Blue Ribbon Bakery.
And remember you were promised more about Marty Sklar?  He is indeed legendary, especially now.
His window is at City Hall in Disneyland– where he had once kept an actual office.
Marty began working for Disney in 1955; became President of Disney Imagineering, and was the only Disney employee to be present for opening day in all 11 Disney Parks– until he retired in 2009.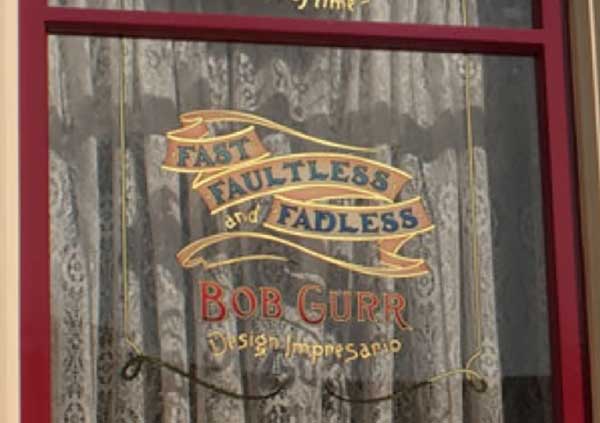 It was just last year—2017—that Martin Sklar passed away at the age of 83.  Said Bob Iger, Chairman & CEO of The Walt Disney Company, "Everything about Marty was legendary – his achievements, his spirit, his career… No one was more passionate about Disney than Marty and we'll miss his enthusiasm, his grace, and his indomitable spirit."
You can remember Marty—and the other Disney honorees—the next time you visit a Disney park by just looking up.
Windows.  Not only are they a way to look in, and out—but sometimes they tell a story all on their own.
The windows in your home yield light, offer a view out onto your world, let fresh air in, and protect your family.  But did you know that windows can even save your lives?
---
Florida has some of the worst storms anywhere, including major hurricanes.  It's easy to forget about this in the dry cooler weather of winter.  The snow storms up north and the threat of summer hurricanes seem far, far away.
But winter and early spring is actually a great time to prepare yourself and your family with impact windows from Florida Window Experts.  Everyone thinks about hurricane protection just before and after a storm.
But right now you can investigate how all the advantages of regular windows—a view, light, fresh air—can be paired with the highest degree of hurricane protection possible.  And once installed, erase the worry of ever having to shutter your house again.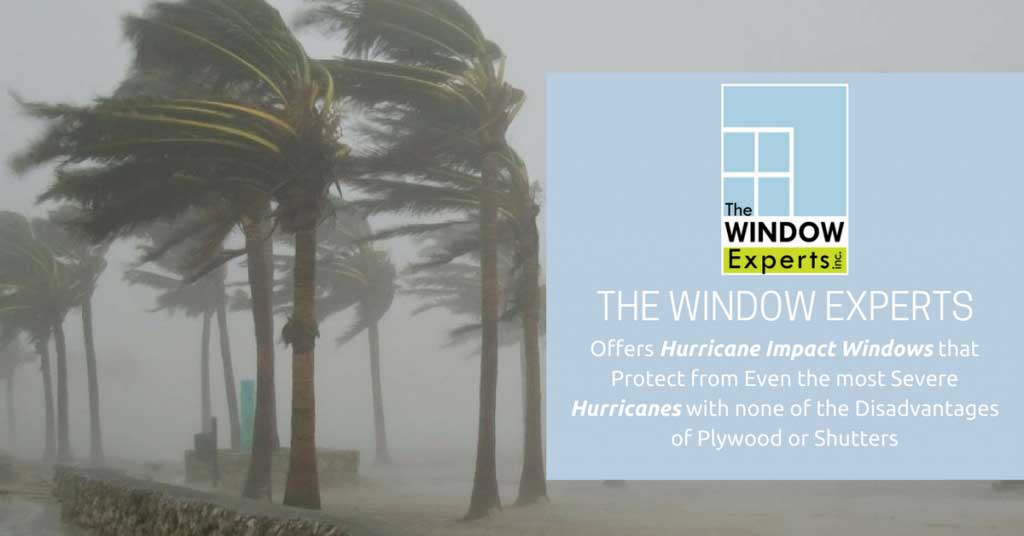 You get peace of mind… and a view!
Once Florida Window Experts have installed your impact windows, you'll never need to close shutters or put up plywood again.
Installations are ALWAYS performed by the dedicated installers at Florida Window Experts. Count on them to take care of your home like it was their very own.
And because of this, Florida Window Experts offer you a Life Time Warranty!
Florida Window Experts.  Our windows pay for themselves.
Contact us at 561-477-6659 or visit floridawindowexperts.com/contact/ to ask questions or get a free estimate on hurricane impact windows in South Florida. Don't forget to follow us on your favorite social media channel.