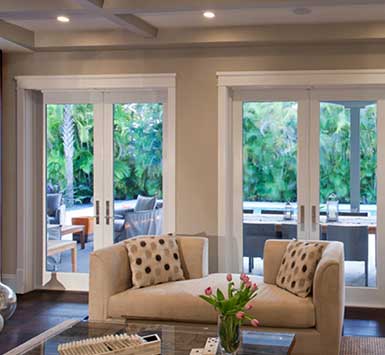 The Elegance and Timelessness of Impact French Doors
Impact French doors are the perfect way to make an elegant statement in your home. These beautiful doors create a timeless look that will never go out of style, as well as offer increased protection against intruders and inclement weather. Let's take a closer look at why impact French doors are the preferred choice for homeowners who value luxury and security.
The Craftsmanship of Impact French Doors
Impact French doors are made from high-grade aluminum or wood and feature strong, reinforced frames that can withstand harsh conditions. The frames also come with heavy-duty glazing, which is resistant to scratches and fading. These doors also have the ability to offer superior protection from intruders. The combination of these materials ensures that your doors will last for years with minimal maintenance required.
For those who appreciate the finer details, you will love the intricate craftsmanship that goes into creating these beautiful doors. From decorative glasswork to hand-carved wooden panels, each door is designed with care and attention to detail. You can be sure that you are getting a product that is truly unique and eye-catching.
The Benefits of Installing Impact French Doors
In addition to their timeless beauty, these doors also provide several practical benefits. Since they open outward instead of inward like traditional sliding doors, they don't take up any extra space inside your home. Also, due to their superior paneling, they won't block any of the existing windows or views outside of your home. This makes them ideal if you want to maximize the natural light in your house without sacrificing security or privacy. 
Additionally, many styles of impact doors allow for ventilation while still providing protection from pests and insects like mosquitoes or flies if installed correctly. Because they come in a variety of sizes and colors, it's easy to find the perfect style of door for your home.
Get High-Quality Impact French Doors in Palm Beach County from The Window Experts
Now that you know the benefits of impact French doors, the next question you may be wondering about is– where is the best place to get them? When you are ready to consider purchasing the best impact French doors in Palm Beach County, it is important to know why you should rely on a professional credible business, such as The Window Experts.
The Window Experts have an A+ on the Best Business Bureau and have been in business since 2010. Our trusted and dependable experts believe in honesty, integrity, and hard work. As a family-owned and operated business, we provide customized services to suit each of our client's unique needs when it comes to windows and doors. The Window Experts care about the safety and well-being of our clients which is why we are committed to offering the best products imaginable complete with installation services. We take pride in our 100% customer satisfaction track record from our clients in the Palm Beach County area.
Contact us today for a free estimate and to learn more about how our services can benefit your home or business!