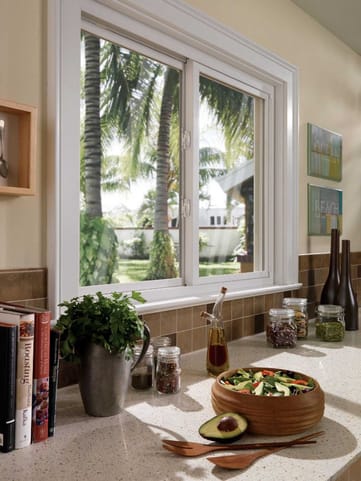 Alternative Ways for Hurricane-Proofing Your Home
Part of living in Florida means you may have had to consider hurricane-proofing your home. There are all kinds of shutters and impact windows which can protect your home from the wind and debris. They've even become quite stylish, if you want to see great examples of elegant hurricane windows, Palm Beach County has an abundance–many of which were done by us!
Although you may be wondering what else you can do to protect your home, family, and livelihood from a hurricane. Here are some alternative ways for hurricane-proofing your home alongside installing hurricane impact windows in Palm Beach County.
From the Ground Up Hurricane-Proofing
A major risk during hurricanes is flooding, due to massive rainfall and in some cases waterways spilling over into residential areas. Tropical Storm Eta made landfall twice in Florida in only a few days, and caused severe flooding in the South Florida and Tampa area.
Ensuring that all major drainage around your house is clean and clear can help you avoid this problem. It's also important to ensure the foundation of your home is protected from rain damage, this can be achieved by redirecting your downspouts.
Also, if you have a pool then be sure to leave it full, as emptying it can allow the water table to lift and damage the structure of the pool. All trees on your property should also be checked for any branches (or even whole trees) that may become missiles given enough wind.
Tip-top Condition
Once you've checked your ground conditions it's time to take a top-down approach. We've all seen the harrowing images of roofs being ripped off houses, with the whole house quickly falling down thereafter.
Strengthening your roof by replacing shingles with metal sheets may be the best way of achieving this. Especially combined with architectural shingles which have become the standard in many Floridian houses these days.
For a last resort you can install steel hurricane clips to reinforce the connection between your roof and your house. And if you feel it's necessary, an escape hatch can be installed in your roof to allow you and your family to escape from extreme flooding.
Battening Down the Hatches
As the name suggests, entry points are another considerable concern when it comes to hurricane-proofing your home.
The garage door is often the biggest entry point, and if it isn't reinforced to withstand strong winds and impact, it could come off. Although this also applies to French doors and even your front door, and losing one of these doors can cause catastrophic damage.
Garage Door
Reinforced garage doors are readily available throughout Florida, when looking to purchase one, be sure to check that the wind resistance is up to your areas code. These doors typically have steel reinforcement with extra hardware such as spring components which add durability through flexibility.
If replacing your garage door is out of the question you may consider using removable metal panels. Make sure these panels are galvanized steel or aluminum to ensure maximum strength and reusability. You could also install vertical storm braces for further reinforcement.
French Doors / Sliding Glass Doors
An incredibly common feature in modern houses, sliding glass doors are amazing when you don't have to worry about hurricanes. Although when it comes to strong winds, nothing is scarier than giant pieces of broken glass being thrown around your house. Investing in impact doors or shutters may be your best bet in keeping the glass in place.
Otherwise if a full replacement is out of the question, there are films which can at least hold the glass together. There are also removable metal panels which can easily be put up to protect them.
Front Door
Reinforced front doors offer the added bonus of security against thieves as well as hurricanes. Fiberglass has proven itself to be the best material for hurricane-proofing front doors, and even keeps rain out better than their glass or steel counterparts.
Metal panels can again be used as a cheaper alternative, as well as the age-old method of nailing planks of wood to hold the door in its frame.
Survival Mode
Many of us remember the devastation that Hurricane Irma brought back in 2004, with estimations of $50 billion in damages and over a thousand homes in Miami-Dade county receiving major damage.
Knowing the sheer unpredictability of nature and how it affects us, being prepared can quash many typical concerns when it comes to hurricanes. The 2020 Atlantic Hurricane Season was the most active and fifth costliest season on record.
Make a survival kit for you and your family by buying and storing the following items in an easy-to-reach container:
A flashlight with plenty of extra batteries.
A battery-powered radio, again with extra batteries.
A fully stocked first-aid kit.
Enough water and non-perishable food for at least 3 days.
Be ready for anything
Many of us don't even want to consider the situation in which we'd be forced to use our survival kit. By having it ready you can be sure that if the worst does happen, you and your family will be prepared.
A final way to prepare yourself and your family for hurricanes is through having our array of impact windows, doors, and patio doors to truly cover your bases. Florida Window Experts have been installing hurricane impact windows in Palm Beach County for years. We've helped our neighbors and fellow South Floridians weather storms throughout the years. There is huge peace of mind in knowing that all of your doors and windows are secured with impact protection. When hurricane season rolls around, your neighbors will be scrambling to put on shutters for every potential hit we may face, and you won't have to budge an inch!