Single Hung Hurricane Windows
Single Hung Configurations
Description
SINGLE HUNG HURRICANE WINDOWS | IMPACT WINDOWS BOCA RATON
WHAT IS A SINGLE HUNG WINDOW?
Hurricane Impact Single Hung Windows are vertical sliding widows. They are comprised of 2 lites, an upper fixed lite and a lower movable lite called a sash. has one sash. The Sash is the part that opens. A sash is "hung" on a balancer (insert link to the "Balancer" page) to support the weight of the glass and frame to allow the user to easily lift it up and slide it down. Rarely do Single Hung Windows have a tilt-in sash. The upper glass is referred to as a Fixed Lite. Each and every section of glass fixed in place is referred to as a "Lite". Hurricane approved Impact Single Hung Windows are usually considered traditional windows for that traditional look. Call us today to get a free estimate and see if our Boca Raton impact windows are right for you.
Additional configurations are also available. Oriel style is a Single Hung window with a operable sash that is less than half the vertical size. Usually an Oriel will have a sash at 33% or 25% of the window height. Arch Top and Half Circle styles are also available. Making the single hung window with the arch top as part of the window instead of an additional arch window reduces the visible framing, increases the glass area and saves in labor cost.
SINGLE HUNG WINDOWS & SCREENS
Screens on Single Hung windows are Half Screens. It only needs to cover the portion of window that opens. Screens are on the outside of the window. Single Hung windows are the most popular style in production today. Their application in constructing a wall is very versatile. Like most windows, single hung units can be joined in any direction to fill large areas of desired glazing. High production volume in the industry have lead to slightly lower prices for this type of window.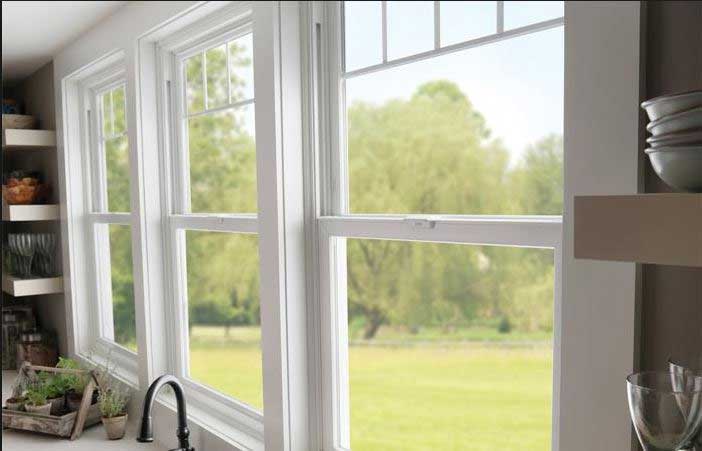 HOW DOES THE SCREEN WORK ON SINGLE HUNG HURRICANE WINDOWS?
The screen on Impact Single Hung Hurricane Windows is a "half screen" since it only covers the lower half of the windows where the sash opens. To clean a Single Hung Impact Window on the outside requires removing the screen Many times, this is so inconvenient that folks rarely clean their windows. The ventilation from an Impact Single Hung Hurricane Window is about forty percent of the space of the opening. Ten percent of the space is lost due to the overlap of the meeting rail. Keep in mind with Hurricane Impact Windows the frames and meeting rail are much heaver and beefier that the old flimsy non-impact windows.
BOCA RATON SINGLE HUNG IMPACT WINDOW DESIGN
There are a several design options for hurricane impact approved Impact Single Hung Windows. There various grid patterns that are used to give different looks. Grid patterns are typically Colonial, Perimeter, Prairie, Cross and Victorian. There are many various custom grid patterns that The Window Experts can order especially for you. On old windows and on Impact Windows with monolithic laminated glass the material that makes the grid is usually applied to the surface of the glass. This is referred to as an applied grid. This is supposed to simulate the old days when a window was made up of small pieces of glass. The various pieces of glass were connected with a "muntin" and together formed the grid pattern desired. Today the applied grid material or muntins are a lower profile strip of aluminum that gets glued to the glass.
SINGLE HUNG WINDOWS & MANUFACTURERS
Some manufacturers will make the upper fixed lite of a hurricane impact with a round top. This allows the replacement of a single hung and a half round to be replaced with one hurricane impact approved Round Top Single Hung window unit. It cost about the same as the 2 hurricane impact approved window units but it's a lot nicer looking once it is installed. When optional grids are added, unique designs are created.
IMPACT WINDOWS & DOORS PRODUCTS