T

hink about the last time you were on a plane, looking through the porthole window.  Likely you were looking mostly for a view, and didn't ponder the shape of the window at length.  But have you ever wondered why airplanes have always had circular windows, rather than square ones?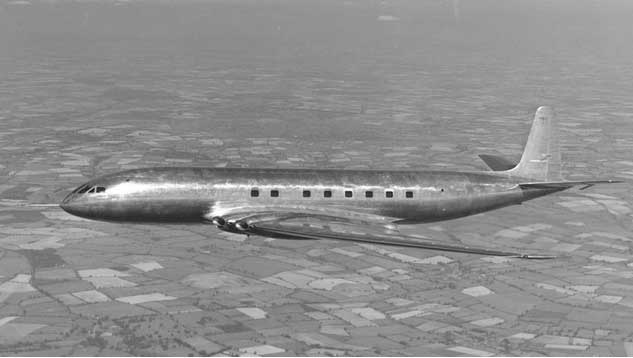 This was primarily a question for aerospace engineering.  Huge leaps in technology have been made.  Round windows go way, way back to early jet aviation efforts to make plane travel safer for all.
In the 1950s, jet travel was just starting to come into its own.  The change to the jet age really began on July 27, 1949, via the de Havilland Comet.,  It was the first commercial jet with a pressurized cabin.  It could go higher and faster than any other aircraft at the time, and cruised at 460 miles per hour.
The world suddenly shrank.
Prior to the Comet the fastest aircraft for commercial aviation was the propeller-driven DC-3– which topped out at 250 mph.  In the 30s and 40s flying took forever, and jet engines were regarded as too inefficient and unreliable for widespread use with passengers.
Looking at the picture of the Comet, you may notice one thing drastically different from modern jetliners—see it?
———–Square windows.—————–
THE COMET (1953).
In 1953, not one but two Comets fell apart in the air.  56 people in total were killed.  And the reason cited for the crash?   The windows.
The engineering became better understood:  corners = weak spots.  And square windows have 4 corners, meaning 4 potential weak spots.  Air pressure at altitude with a pressurized cabin was enough to cause the de Havilland Comet disasters.
Modern planes begin not only creating round windows, but also curving the window itself which distributes the pressure more evenly.  In addition, it drastically decreases the likelihood of breaking.   If you're interested in learning more, you can watch the video below:
---
The technology today has certainly changed, especially for airlines windows.  To see for yourself, look at how Brazilian-based aircraft manufacturer Embraer is changing the view for airplane passengers today.
Embraer is the third largest producer of commercial aircraft, after Airbus and Boeing.  They were recently featured in a Wired story about their latest executive jet which has windows that are larger—much larger— than other planes today.
How large?  How about door-sized!
This new custom option on Embraer's line of Lineage 1000 private jets can be yours for just $53 million.
Embraer's VP of interior design Jay Beever, talked about how custom yacht and home options inspired the windows, which meet   aviation's strict safety requirements.
"I've always believed that we should be able to execute the customer's dreams and passions in an airplane," said Beever. "Customers are usually being told 'no' because of certification restrictions in airplanes."
If you look at the picture of the windows, you'll really begin to grasp just how much technology has changed.  Not only are these windows massively larger than ever before—but are also rectangular!  
The technology is proprietary, but one way Embraer pulled it off was by making the windows the same size as the door, thus not adding weight.  Also, the window panels are installed ahead of the wings, where aerodynamic pressure and  fuselage stress are less.
Who would have thought it?  A window to the world—in the sky!
---
Technology is fascinating.  It can increase our satisfaction with our surroundings while keeping us safer.  Even at hundreds of miles per hour and miles in the sky.  Embraer understands just how important a window is to a traveler—without out them, much of the journey is missed.
Here on earth, technology and windows come together to offer a view of the world—and also protection for your family.  A window could perhaps even save their lives.
Florida weather is usually great—but we have some of the worst storms anywhere, including major hurricanes.  With impact windows from Florida Window Experts you get all the advantages of regular windows.  A view, light, fresh air and also the highest degree of protection possible.  As a result, there's no need to ever shutter your house again!
HURRICANE IMPACT WINDOWS FROM THE WINDOW EXPERTS
Florida Window Experts offers hurricane impact windows that protect from even the most severe hurricanes with none of the disadvantages of plywood or shutters.
You get peace of mind… and a view!
Once Florida Window Experts have installed your impact windows, you'll never need to close shutters or put up plywood again.
Installations are ALWAYS performed by the dedicated installers at Florida Window Experts. Count on them to take care of your home like it was their very own.
And because of this, Florida Window Experts offer you a Life Time Warranty!
Florida Window Experts.  Our windows pay for themselves.
Contact us at 561-477-6659 or visit floridawindowexperts.com/contact/ to ask questions or get a free estimate on hurricane impact windows in South Florida.