PALM BEACH WINDOW WASHING
D

id you ever look at a gleaming skyscraper and wonder what it takes to keep it glistening?

If not, you probably have no idea about the unique world of professional window cleaners.  Sure, it's a job that is more demanding and potentially dangerous than most, but it does have some perks as well.
1. Please Don't Say, "Window Washer."
Never underestimate the power of alliteration:  science proves our brains recall word phrases that include the use of including the same first letter.  But the alliterative phrase, "Window Washer," while commonly used and easy to remember, is reported to be extraordinarily disliked by window cleaning professionals.  Portland's Clear Summit Cleaning's Casey Hooper said, "Most often we call ourselves window cleaners … I'm not 100% sure why, but for some reason most of us cringe just a little when people say window washing,"
So if you don't mind, leave the alliteration to Coca-Cola, Dunkin' Donuts, PayPal, and Krispy Kreme, and please try not to say, "Window Washer."
2. High in the Sky is No Place for Fear
Acrophobia— the fear of heights—is one of the most common phobias, impacting an estimated  23 million adults. A high place is no place to suffer an  anxiety attack.   Even experienced window cleaners know that fear is simply part of their job.  Window cleaner Hernando Melendez said in the Washington Post that, "If you don't feel scared doing this job, you can make a mistake… This is one of the most dangerous jobs, and you always have to be really awake."
Two window cleaners on the new World Trade Center were 68 stories up when their scaffold malfunctioned and they were stranded 68 stories up for almost two hours before being rescued.   "It was definitely terrifying," said Juan Lopez, one of the cleaners.
3.  Yes, You WILL SEE Interesting Things Through the Windows
Erik Brown told The New Yorker that he's often witness to at-work slackers while he's cleaning the windows of office buildings.   "I'd say that on three out of 10 computers that face windows, someone's playing solitaire."
More revealing still is a story related to the Seattle Times about a professional window cleaner for a medical tower and his first-hand observation of a trip to the gynecologist:   "She and the doctor saw me and started laughing."
Even more imaginative are the antics of a couple observed by a professional window cleaner in England, who witnessed  "A couple inside…watching an X-rated movie dressed as characters from the movie Grease."
You're the one that I want, indeed.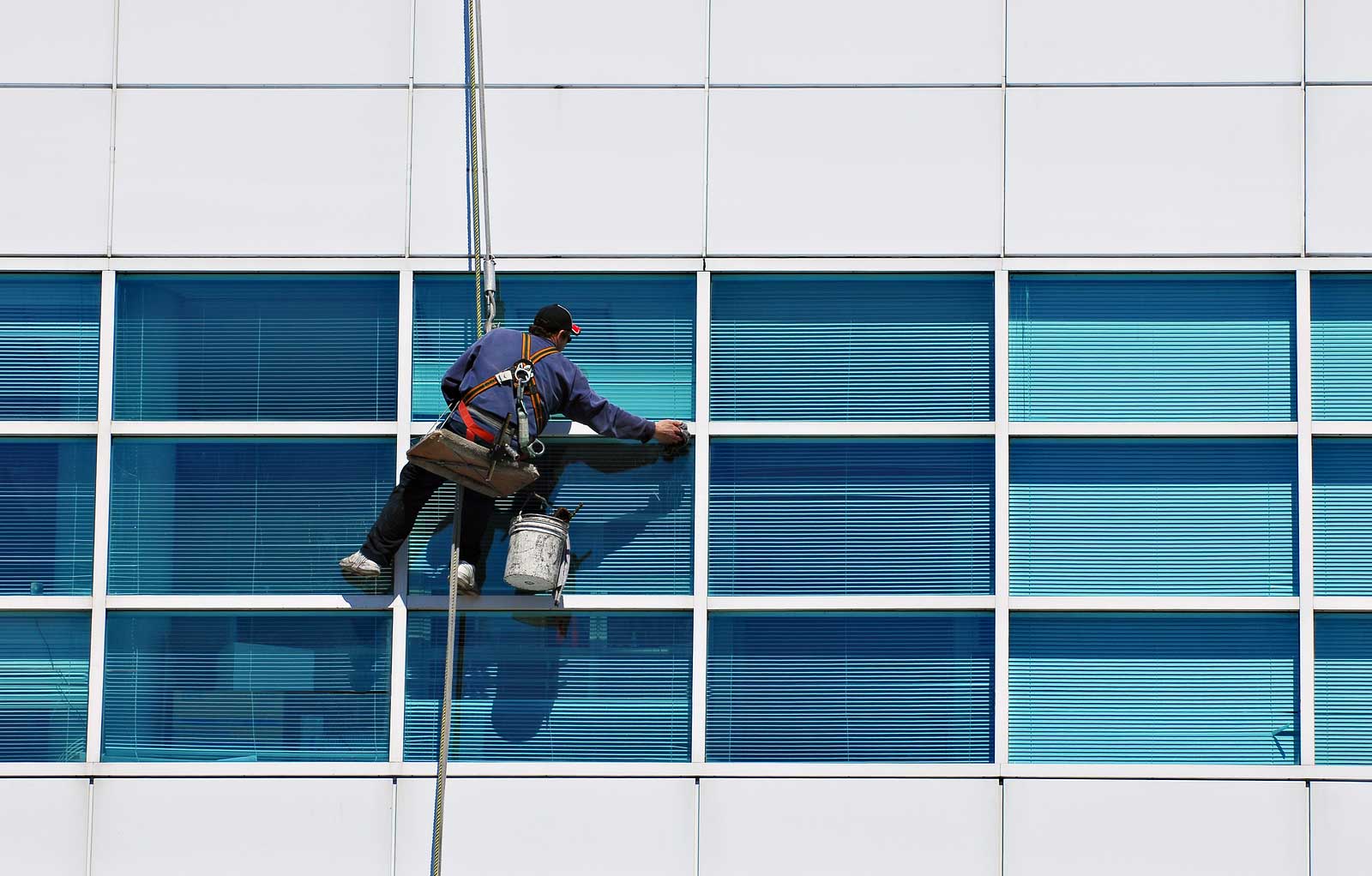 4. More and More Females Are Taking Up the Profession
Today, most window cleaners are still male, but that's beginning to change.  Sheila Smeltzer, president of A+ Pro Services Inc. noted the potential in the industry for women:   "…women don't struggle making their mark in this industry. I am physically capable of doing the work, but that's just labor. I have been scheduling jobs and communicating with customers since day one, and that's operations.  I have nothing but great experience of being accepted and embraced as a woman in the industry."
5. Podcasts are Your Friend
Radios and cellphones are generally forbidden because of their potential for distraction.  But Casey Hooper talks about his on-the-job entertainment: "I pop in ear buds and go to work. I listen to podcasts mostly," Hooper said. "They (customers) don't want to hear your music."
6.  The Money Ain't Bad
Some window cleaners make about  $12 to $16 per hour—not bad.  But highly experienced cleaners can enjoy upwards of $35 per hour.  And if you own the company? Six figure incomes can be had—like Chicago window cleaning company owner Alexander Tzamburakis.  He bids on window washing jobs at area grocery stores, and said, "The summer is the busiest time… I work around 16 hours a day. It's tiring, but I'm happy with the salary. "
Who knew you could clean up financially while cleaning windows?  
Part of the attraction to a skyscraper are the amazing views from on high.  And the same is true for your own home: your windows are a view on your own world.  
But did you know those same windows could save the lives of you and your family?  
The weather right now in Florida—just prior to Easter and Passover—is about as nice as it gets all year usually.  But after the 'season' ends, the snowbirds head back north, and things begin heating up again.
Summer temperatures mean hurricane season.  
If the thought of boarding up again this year, or putting up those panel shutters again bothers you—it's a great time to think about impact windows from Florida Window Experts.  You get all the advantages of regular windows—a view, light, fresh air—and also the highest degree of protection possible.  
With no need to ever shutter your house again.   

Florida Window Experts offers hurricane impact windows that protect from even the most severe hurricanes with none of the disadvantages of plywood or shutters.
You get peace of mind… and a view!
Once Florida Window Experts have installed your impact windows, you'll never need to close shutters or (shudder!) put up plywood again.  
Installations are ALWAYS performed by the dedicated installers at Florida Window Experts.  Count on them to take care of your home like it was their very own.

And because of this, The Window Experts, Inc. offer you a Life Time Warranty!
The Window Experts, Inc.  Our windows pay for themselves.
Contact us
 at 561-477-6659 or visit
floridawindowexperts.com/contact/
to ask questions or get a free estimate on hurricane impact windows in South Florida.