A Rose by Any Other Name
NOTRE DAME – OUR LADY OF PARIS
There are some famously beautiful windows.  But perhaps none are more renowned than the Rose Windows in the Notre-Dame Cathedral in Paris.
Officially named Notre-Dame de Paris which means, "Our Lady of Paris"), Notre-Dame Cathedral is a medieval Catholic cathedral centrally located in the oldest part of Paris, on the  Île de la Cité.  Widely considered to be one of, if not the finest examples of French Gothic architecture, the Cathedral is among the best known structures in the world in part because of its history, shape and form– but also because of the its three astounding rose windows.
These windows are so named because of the pattern in which they are built, radiating outward in a circular pattern—like a rose.  Rose windows appear in all the major Gothic Cathedrals in northern France and, because of their popularity, can indeed be seen replicated in Christian churches all over the world.
ARCHITECTURAL DESIGN 
The earliest sign of this design can be traced back to the ancient Roman oculus—large circular openings built to let in both light and air.  There's a well-known example at the top of the Pantheon.   But the history of the rose windows in Notre Dame are ancient enough in their own right.  There are three of them adorning the north, south, and west facades of the cathedral.  The north window is the oldest—it was finished way, way back in 1255.
Few people know that even today the north window retains almost all of its 13th century stained glass.  Even fewer know that the window is assembled to tell a story.  Consider the fact that much of the general population in the Middle Ages were illiterate and this is not surprising.  People at that time relied upon pictures and symbols to deliver meaning.
Colors
Even the colors chosen have specific meaning.  The predominant blue was considered the color of purity and the Virgin Mary.  The other significant color—red—symbolizes the blood of Christ and together these colors are fitting for telling the story of Mary and the birth of Jesus Christ.
Symbols
Doves and angels surround mother and child.  Encircled by the figures of 12 Major Prophets, 12 fleur-de-lis flowers (symbol of France and of Mary).  And Finally, 12 disciples.  The theme and symbolism is all Christian, but no matter what your religious background—or lack thereof—the rose windows of Notre Dame in Paris are a sight to see.
Windows can function as more than just a means of letting in light, fresh air, and a view.  Windows can tell a story, and be true works of art.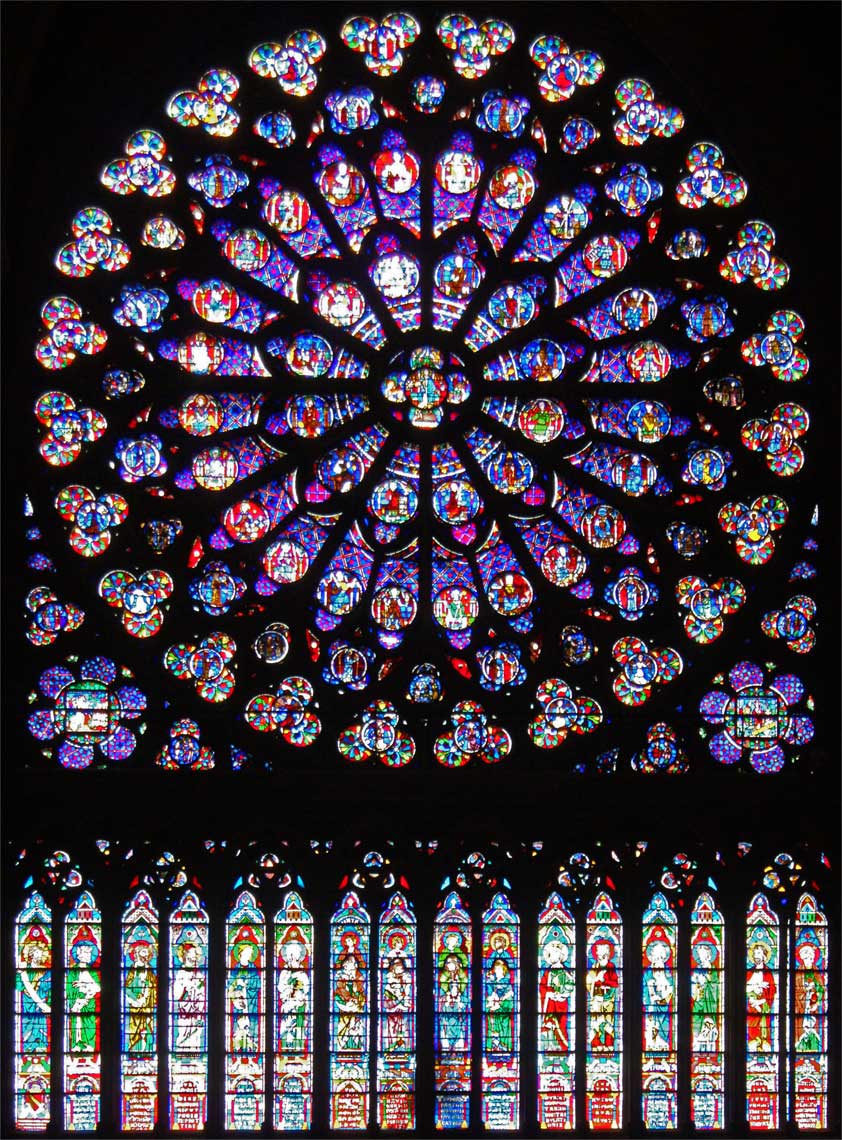 HURRICANE IMPACT WINDOWS PALM BEACH
Windows can also protect your family—and perhaps save lives.  Here in Florida, we have perfect weather many days, but during hurricane season we can have perfectly terrible storms.
With impact windows from Florida Window Experts you get the highest degree of protection possible with a minimum of fuss.
Florida is the hurricane capital of the United States.  Don't be fooled by a season in which no storms directly threaten us—the storms have happened in the past (including Irma in 2017) and will happen again.  It's not a question of if—but when. 
ADVANTAGES OF HURRICANE IMPACT WINDOWS
Sure, you can board up windows with plywood or screw in sheets of metal hurricane shutters.  It's not an entirely safe process, especially if you have to board up or shutter a second story.  Once erected, the boards or metal shutters are unsightly too.  No one will mistake your home for a French cathedral.  And afterwards the holes in your house from the screws don't add to the overall aesthetic, either.  But perhaps the most worrisome part is the fact that once shuttered, exist through that opening is prevented.  And that most certainly can be dangerous.
Even accordion shutters are aggravating—they need service and yearly testing to ensure they remain operational.
Florida Window Experts offers hurricane impact windows that protect from even the most severe hurricanes with none of the disadvantages of plywood or shutters.
You get peace of mind… and a view!   Perhaps you'll see your own 'love of your life' through your new impact windows.  But one thing is for certain:
Once Florida Window Experts have installed your impact windows, you'll never need to close shutters or put up plywood again.
Installations are ALWAYS performed by the dedicated installers at Florida Window Experts. Count on them to take care of your home like it was their very own.
And because of this, Florida Window Experts offer you a Life Time Warranty!
Florida Window Experts.  Our windows pay for themselves.
Contact us at 561-477-6659 or visit floridawindowexperts.com/contact/ to ask questions or get a free estimate on hurricane impact windows in South Florida